All We Offer
BB Sales of Boca Raton, FL is proud to offer the following products for your NDT Equipment and Supply requirements.
Ultrasonic Inspection:
Flaw Detectors
Transducers (Contact, Angle Beam, and Immersion)
Couplants
Immersion Systems

Digital Thickness Gauges
Cables and Adaptors
Calibration and Reference Books
Data Calculators
Magnetic Parker Inspection:
Equipment (Portable and Stationary)
Powders (Dry and Flourescent)
Centrifuge Tubes and Stands
Contact Clamps Prods, and Cables
Blacklight Lamps and Replacement Bulbs
Liter Meters (Ultraviolent and Visible)
Inspection Dyes
Steel Ring Test Blocks (Ketos Ring)
Digital Gauss Meters

Hand Yokes
Magnetic Suspension Fluid
Field Indictors and Magnetic Pentrameters
Replacement Coppers Pads and Lead Plates
Filters and Hoses
Copper Central Conductors
Gloves and Aprons
Hand Suspension Sprayers
QQIs
Liquid Penetrant Inspection:
Equipment and Systems
Removers and Emulsifiers
Penetrant Kits (Visible and Flourescent)
Light Meters (Ultraviolent and Visible)
Gloves and Aprons
Hand and Pressurized Sprayers
Inspection Dyes
Transparent Comparators

Penetrants
Developers (Wet, Dry, and Nonaquesous)
Blacklight Lamps and Replacement Lamps
Test Blocks
Spraywash and Guns
Baskets
Water Pressure and Temperature Gauges
Test Blocks and Tam Panels
Radiography:
X-Ray Equipment (Portable and Stationary)
Automatic Film Processors
Silver Recovery Units
X-Ray Film and Processing Chemicals
Film Duplicators
Lead Intensifying Screens
Film Hangers
Densitometers
Darkroom Safelights and Timers
Survey Meters
Tapes, Photographic, and Masking
Interlock Switches
Revolving Darkroom Doors
Mobile Darkrooms
Warning Signs, Rope, and Tape

Exposure Cabinets and Room Enclosures
Manual Processing Tanks
X-Ray Film Dryers
Film Viewers and Pocket Comparators
Lead Numbers and Letters
Exposure Cassettes (Cardboard and Vinyl)
Film Filing Cabinets and Filing Envelopes
Immersion Heaters and Thermometers
Dosimeter and Dosimeter Charges
Penetrameters, Mounting Blocks, and Step Wedges
Laser Aiming Devices
Tube Positioners
Film Interpretation Training Kits
Number Belts
Coating Thickness Inspection:
Digital Type
Remote Probe Type
Magnetic Lift-Off Type

Electronic Pointer Type
NIST Calibration Test Standards
FE and NFE Plastic Shims (Commercial and NIST)
Eddy Current Inspection:
Test Blocks and Reference Standards
Analog Instruments
Software:
Ultrasonic Thickness Gauging Training
Test Generator Software

Certification Tracking Software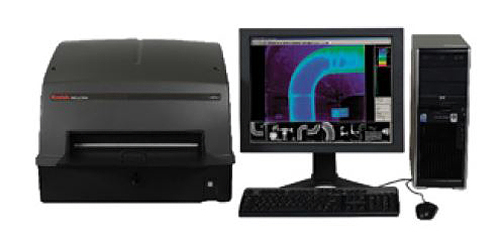 Miscellaneous:
Hardness Testers
Surface Roughness Meters
Magnetic Flux Leakage Scanners
MFL Pipe Scanners

IRIS Systems
Flawed Specimens
Specialized Reference Blocks
ASME XI AppVIII Specimens (Pipe and Vessel)
Ask About Leasing Equipment and Supplies
We also provide flexible
leasing and rental arrangements on a wide range of NDT Equipment and Supplies. Let us provide your need for your particular project.